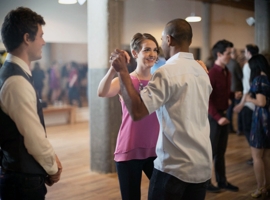 Private lessons provide an alternative to group sessions wherein the more familiar one to one setting is perhaps more beneficial for those wanting to increase their understanding, confidence or focus on individual goals. Our professional tuition takes place in a highly encouraging and friendly environment, and our engaging delivery combined with expert analysis and 1st hand technical feedback will help refine your technique or indeed teach you something entirely new and interesting.
Choose from a multitude of different dance styles, choreographed routine or specifically tailored dances for special occasions; our private lessons are available in a wide variety of formats which we guarantee will not only cater to your tastes but help you reach your goals, however high.
Private lessons are beneficial for those who find the speed of group sessions does not suit them, or those seeking preparation for classes. If you are a shift worker or have a demanding timetable, then perhaps private lessons are the best option to accommodate for the vagaries in your schedule; convenient mutual arrangements to discuss time and duration of lessons are extremely flexible as we are open 7 days and 7 nights a week. Although private lessons will normally last 1 hour, this can of course be altered and arrangements can be made for longer or shorter periods depending on your personal preference.
Lessons are normally paid for by the hour at competitive rates and great value for money. To arrange a private lesson with one of our specialised tutors, contact by phone or email and a member of our team will be happy to help.