Lessons available in Preston
Complete the special day with a choreographed routine for your first wedding dance that's perfect for you. There is no experience more personal and romantic than getting on the dance floor for the first time as a married couple. For many a wedding dance is a once in a life time occurrence that will be watched by all your friends and family. Make it a dancing performance you can be proud of, surprise the guests and remember forever.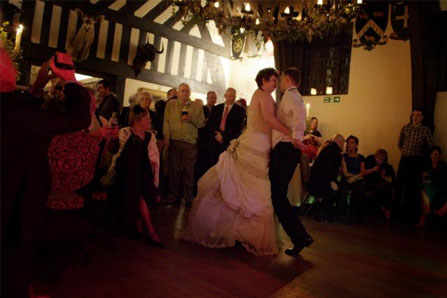 Types wedding dancing
In the past the first wedding dance has always been a waltz. Now, we have requests for a wide variety of dance styles including Rock & roll, Latin, Salsa and Ballroom but nearly any style of dancing could be used at a wedding. The choreography can also include several dances. Also, a favourite piece of music may be used, this soundtrack may be of sentimental value to you and your partner.
Some couples ask for a routine that reflects their personality.
 Wedding Dancing Lessons
We can complete your wedding or anniversary by offering the best professional dance lessons and chorography from some of the most experienced dance teachers in the northwest, from our studio in Preston. All of our dance tutors are experts at choreographing personalised dance routines to make you look the part for your 1st wedding dance.
Friends and relatives may also wish to learn to dance for your big day.
No matter what kind previous dancing experience or background you have, even if you have never been to a dancing lesson before, come and see us at our dance school based in Preston city, Lancashire. Our dancers come from all walks of life and different abilities; from beginners taking their first dance steps to advance using more complex and creative dance moves. There is always something more to learn.
Wedding dance lessons gift vouchers are available, an ideal present to celebrate an engagement.