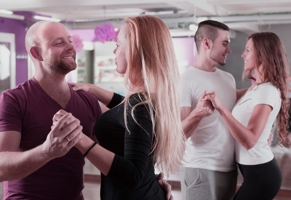 Sunday Evening Classes
Last week 2023 December 10th
Restarting 2024 January 7th
6:00pm – 7:00pm Intermediate ballroom & Latin
(Intermediate class requires teachers permission to join – if not attended previously)
7:15pm – 8:00pm Beginners Salsa and Bachata
8:00pm – 9:00pm Beginners Ballroom and Latin
Reeders Dance Studio, 38D Holme Slack Lane, Preston, PR1 6EY
Dancing with different people
Partner dancing classes and most of our events will involve changing dance partners within the session as this makes the most social and fun experience for the majority of dancers.
However, if you wish to stay with the same dance partner for any of the classes you can by contacting us prior to the session. Contacting us before the day with both your names to discuss is the only way we can accommodate fixed partners and position dancers in the room accordingly.
The Sunday group sessions are full of fun and socialable dancers with a mix of people from different parts of Lancashire and Cumbria, who are always welcoming and enthusiastic about new people joining. Some have stayed on from the afternoon workshops, having taken a break in the local coffee shop between the workshop and class times. Others specifically come to Preston to join the evening classes, sometimes travelling many miles. We always have a good mix of leaders and followers, so anyone without a dance partner will always have many to enjoy dancing with.
The Intermediate Ballroom and Latin
To join the intermediate class you must have a good understanding of all the Ballroom and Latin dances. This class is not open to beginners and anyone joining should have spoken to one of our teachers to confirm this class is suitable.
We will soon start to work on routines towards medals and gradings in these dancing classes. This is of course optional for any of our adult students and for those pupils would be no different from a good enjoyable dance class. This is at the request of many of our adult dancers who want to gain a sense of achievement and progression in their dancing. Some pupils may feel they wish to go beyond learning new steps or routines they may not always use at dance socials, or feel they haven't perfected a dance step they enjoy. If you're looking to earn the achievement of certificates, grading and medals; or want to feel that your dance skills and understanding be more practicable in general;  join us on Sunday evenings, because this is not widely available.
The teaching in the intermediate and beginners classes have a strong focus on technique and strong fundamentals of Ballroom and Latin dancing, not present in many other dance schools in the northwest. For this reason, some of our dancers travel long distances to join us from as far as Penrith, Barrow-in-Furness and Stoke-on-Trent.
The Salsa classes
In this class we will mainly cover Salsa but also a variety of other Latin dances, such as Bachata and Merengue, that don't come under the usual understanding of "dance sport Latin American dancing" ,which is much more widely available in dance classes. The salsa dancing classes we hold in Preston will be taught true to the nature of salsa, as a "club dance" . Not only with a social and party atmosphere but also include the benefits of lesson structure and valuable techniques, styling and musicality. If you can imagine yourself on holiday dancing to Cuban music in the sunshine, then join us because this class would be ideal for you.
Beginners Ballroom and Latin
Please contact us before joining this class as we can advise on the best time to join. As a new beginner joining us you will probably want to start on the first week of a new dancing routine along with other beginners. We also try to maintain a good mix of leaders and followers, so those without a dance partner have plenty of choice of dancers in our classes.
In the beginners class you will learn the basic steps and techniques to begin your journey into the exciting world of dance. When you join our dancing classes you can make new friends and will also open the doors to dance at parties, dance socials, competitions, gradings or dancing at home and on holiday for fun. Within a few weeks of classes you will not only be able to dance at a basic level but will have a sense of accomplishment, improved posture, fitness and confidence. We welcome you to join us on Sunday evening dancing classes. Don't hesitate to contact us and avoid missing this opportunity, because the Sunday sessions can be very popular.