Grange Ballroom, Latin & RnR
Last week 2023 December 13th
Restarting 2024 January 10th
Wednesday night sessions at Grange have grown to become the most popular dance classes in Cumbria with up to 60 people attending.  These weekly classes are held Wednesday evenings at the magnificent Victoria Hall, Main Street, Grange-over-Sands.
The classes consist of three sessions of mixed ability:
7:00pm – 7:45pm – Intermediate Ballroom & Latin
7:45pm – 8:30pm – Beginners Ballroom &  Latin
8:30pm – 9:15pm – Beginners Rock n Roll, Swing & Salsa
9:15pm – 10:0pm – Social dance/practice time
Grange-over-sands Victoria Hall, Main St, LA11 6DP
Dancing with different people
Partner dancing classes and most of our events will involve changing dance partners within the session as this makes the most social and fun experience for the majority of dancers.
However, if you wish to stay with the same dance partner for any of the classes you can by contacting us prior to the session. Contacting us before the day with both your names to discuss is the only way we can accommodate fixed partners and position dancers in the room accordingly.
Private lessons times available before classes scheduled. Please contact for details.
Intermediate Ballroom and Latin
To join the intermediate classes you must please contact James first. This is to see if this level is suitable for you. We wouldn't want anyone to feel out of their depth or cause a risk of injury for themselves or people around them;  for these reasons we understandably cannot allow beginner dancers to "just give it a try" by joining this class.
The teachers
The highly specialised methods and techniques learnt in this session is the only class of its kind in the area, made possible by the expertise of our highly rated fully qualified dance teacher James Reeder. James and his assistant bring key knowledge from their extensive backgrounds in high ranked dance sport competitions and use this to bring the best out of their students' ability over the past 9 years of teaching experience, competitors and social dancers alike.
What you will get from this class
The class routines can last from 4-6week periods with amalgamations that will make your dancing look better or at the very least feel better than any dancing you've seen on Strictly. In this class you will learn the technique needed to make your dancing movements feel deliberate and controlled and to have a great sense of self-confidence in your dancing. The Ballroom dances will give you the sensation of floating around the dance floor and the Latin will make you feel powerful and confident. We do have to regulate numbers due to the high popularity of this lesson, so please do not hesitate to enquire about joining this class, while spaces are still available!
Beginners Ballroom and Latin classes
If you are completely new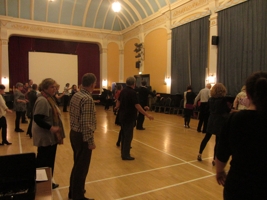 to dancing its advised to contact us before joining. The beginners Ballroom and Latin classes at Grange-over-Sands will often have routines spanning over several weeks. It is normally a lot easier for new dancers to join at the beginning of a new dance and not have to catch up with the class by joining in the middle of a dance routine.
Here is our general FAQ for general advice for beginners
In all the beginners classes in the south lakes many people mix and change partners. This is because some come without partners and therefore will have the opportunity to receive help and encouragement from the intermediate dancers. However, staying with the same partner is completely fine and some choose to do so.  So that
In this class you will learn the basics of Ballroom and Latin dancing, step by step. By attending this class you will soon be able to dance around our Ballroom at Grange-over-Sands, to a full song, using the dance steps you have been taught. This class will give you the foundation in each dance discipline so that the routines at our classes and dance socials. Please contact James as soon as possible about joining our wonderful dance community. We look forward to seeing you on the dance floor.
Beginners Rock n Roll / Swing / Jive
The Rock n Roll and swing dances will be taught with a partner in a circle. Partners will change progressively within the circle. The reason for this is that these dances are essentially party dances, without close contact. We try to keep a similar format to our Rock n Roll parties. This is to help m ake the session as socialable and fun as possible, creating a party atmosphere.  It is completely fine you wish to stay with the same partner for the duration of the dance class, but please speak to the teacher before the class starts.
You will first learn how to dance the social Rock n Roll dance or "2 beat jive", which is the common style you see at our Rock n Roll party nights. This is the easier style and most popular, that's not too physically demanding. This is why many, at our Rock n Roll parties, will dance the whole night not wanting to rest. Don't be a "couch potato", give the Beginners Rock n Roll dance class a try.  Everyone says it's much easier than they thought. Join us this week and why not invite some of your friends.
Social practice time
The social dance time is a great opportunity to practice what you have been taught in the earlier dance classes. The social/practice time is included in the admission for any of the earlier dance classes, as we want to encouraged our students to stay and use the time to practice their dance figures and help socialise . We are very fortunate to have the use of such a large Ballroom to make this possible. Many other dancing classes do not have venues large enough.
Music will be played continuously for the duration of the session. The choices of music will be focused on dances covered in the classes and pervious weeks lessons, this includes a range of Ballroom, Latin and Rock n Roll music. Requests for music or dances will be very welcomed for any dance we cover in our classes or events in the South Lakes area.
Ballroom
Waltz, Quickstep, Foxtrot, Tango, Vienese Waltz
Latin
Rumba, Cha Cha Cha, Samba, Jive, Paso doble
Other
Rock n Roll, Swing
When attending the social/practice time
For your and others safety, please do your best to be aware of your surroundings while on the dance floor and avoid walking into the path of people dancing. Avoid stopping to chat in the middle of the floor if people are dancing. We take pride in keeping a safe environment for dancing, where everyone is polite and considerate not to obstruct others from dancing. For the same reasoning we ask everyone to only practice the appropriate dance for the song currently playing, if you wish to practice a specific dance you can make a request with the teacher.