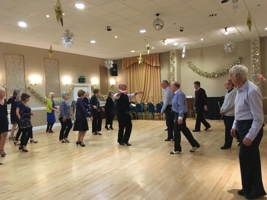 Chorley Ballroom & Sequence night
Tuesdays
7.30pm Learn Ballroom dancing
8:15pm Learn the Popular Sequence dances
9pm – 11pm Social Dancing
Chorley Masonic Hall, Cunliffe Hall George St PR7 28D
A full night of dancing at the best Ballroom venue in Chorley. We have our weekly Ballroom & Sequence Classes for Beginners and Intermediate levels followed by a dance social until 11pm.
Learn in a friendly, relaxed environment. Singles and Couples are all welcome. We have been holding classes at this venue for several years. The floor is large with good lighting. Join us for a full evening or choose which class is of interest to you. Experienced dancers may wish to come for the social dance practice only. Great music and great venue.  This venue offers free parking and bar facilities. Please arrive approximately 10 min before starting classes.
Tuition by dance professionals Bill & Sharon.